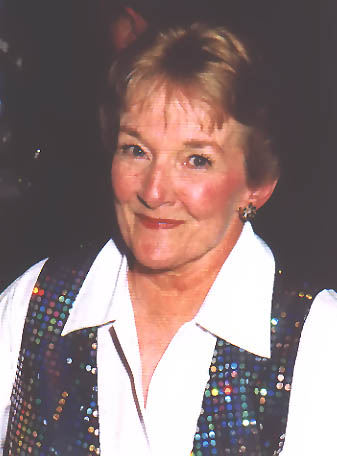 A Tribute
to a very special
Wife, Mother and Friend...
Donna B. Harper
Nov 13, 1929 - Mar 9, 2001
You will be forever in our hearts...

Mom was one of a kind. We have lovingly listed her Achievements, Occupations, and Favorite Phrases. To the left are photo albums of photos from Mom's life, followed by links of websites that may be of interest to you. We hope that in visiting this page you can get a vision of what a special person Donna Harper truly was.
~Achievements~
Author of Turn a Blind Eye, (published 1994), National Writers Association, Sisters In Crime, Toastmasters International, Graduate of The Chicago Academy of Fine Arts, Active in Special Olympics, Wife of 48 years, Mother of 10 Children, Homemaker, Grandmother of 21, Sister, Aunt, Daughter, Mother-in-law, Sister-in-Law, Friend & Matriarch of the Harper Family
~"Real" Occupations~
As Matriarch of the Harper Family she was also known by many other titles:
Artist, Girl Scout Leader, Catechism Teacher, Scorekeeper, Team Mom, Carpooler, Painter, Home Improvement Coordinator, Candle Maker, Casserole Queen, Author, Proud Driver of the 70's Ricky Ticky Sticky Station Wagon, Art Teacher, Family Historian, Student, World Travelor, Counselor, Family Party Planner, Dog Trainer, Seamstress, Labor Coach, Babysitter, Electrician, Plumber, Reupholsterer, Furniture Refinisher, Ceramic Maker, Tile Setter, Shutter Builder, Nurse, House Cleaner, Cook, Meal Planner, Laundress, Bottle Washer, Diaper Changer, Referee, Family Calendar Maker, etc...

~Famous Phrases~
"Fat chance", "You scared the bejasus out of me", "Silly goose", "Colossal", "Move your fasterous", "Not a chinaman's chance in hell", "All over hell and gone", Rotza ruck", "Bully for you", "You're a good egg", "Gizmo", "Hells bells", "I've got a sneaking hunch", "I wish I had a nickel for everytime...", "I'll be dipped in vinegar", "Once in a blue moon", "Please Jesus give us peas", "Out of whack", "Love pot", "Hill of beans", "I've got a bulletin for you", Snickle fritz", "I almost dropped my teeth", "Neck of the woods", "Mrs. Gotrocks", "Oh sweet Jesus", "Between you, me and the lamppost", "When hell freezes over", Dim wit", "I could just shit little green apples", "Up and at em", "Oh for the love of Mike", "That's it in a nutshell", "Like a bat out of hell", "Clam it damn it!", "The whole famdamily", "Hell bent for election"...

We found this poem the day my mom died, folded and placed in a book that she had handed to my sister just two weeks earlier... It was signed,
"Lee, this is for you. I can't say it any better. All my love, always, Donna"
"When Tomorrow Starts Without Me"
When tomorrow starts without me, and I'm not there to see,
If the sun should rise and find your eyes all filled with tears for me;
I wish so much you wouldn't cry the way you did today,
While thinking of the many things, we didn't get to say.
I know how much you love me, as much as I love you,
And each time that you think of me, I know you'll miss me too;
But when tomorrow starts without me, please try to understand,
That an angel came and called my name, and took me by the hand,
And said my place was ready, in heaven far above,
And that I'd have to leave behind all those I dearly love,
But as I turn to walk away, a tear fell from my eye.
For all my life, I'd always thought, I didn't want to die.
I had so much to live for, so much left yet to do,
It seemed almost impossible, that I was leaving you.
I thought of all the yesterdays, the good ones and the bad.
I thought of all the love we shared, and all the fun we had.
If I could relive yesterday, just even for a while,
I'd say good-bye and kiss you and maybe see you smile.
But then I fully realized, that this could never be,
For emptiness and memories, would take the place of me.
And when I thought of worldly things, I might miss come tomorrow.
I thought of you, and when I did, my heart was filled with sorrow.
But when I walked through heaven's gates, I felt so much at home,
When God looked down and smiled at me, from His great golden throne,
He said, "This is eternity, and all I've promised you."
Today your life on earth is past, but here life starts anew.
I promise no tomorrow, but today will always last.
And since each day's the same way, there's no longing for the past.
You have been so faithful, so trusting and so true.
Though there were times you did some things you knew you shouldn't do.
But you have been forgiven, and now at last you're free.
So won't you come and take my hand and share my life with me?
So when tomorrow starts without me, don't think we're far apart,
For every time you think of me, I'm right here in your heart.

If you have pictures you would like to add to this site, email
Cathy