Husband of 48 years, Lee Harper
Daughters: Jenny LeBel, Jill Harper-Yinquez, Joan Harper Decker, Jane Harper, Julie Harper, Mary Stockwell, Catherine Smith
Sons: Tom (now deceased), Pat, David
Daughters-in-law: Lisa Harper, Allie Harper
Sons-in-law: Don LeBel, Tony Decker, Ron Duncan, Ron Stockwell, Jim Smith
23 Grandchildren: Sarah LeBel, Matt LeBel, Josh Harper, Andrew Harper, April Harper, Nick Harper, Robbie Harper, Melissa Yinquez, Mike Harper, Christopher Harper, Anthony Decker, Brandon Harper, Shawn Harper, Brian Harper, Anna Harper, Daniel Harper, Annalyce Stockwell, Meyghan Stockwell, Chad Stockwell, Monika Harper, Jake Smith, Ryan Smith, Shea Smith
Sister: Sr. Helen Ann Burke (now deceased)
Dog / Best Friend: Beastie

Mom's sister, Sr. Helen Ann Burke (aunt Margaret Jean), came to spend a week with her just before she died. Aunt MJ sat with mom for hours everyday just being there with her. Mom had really looked forward to her visit. Here she is with Dad.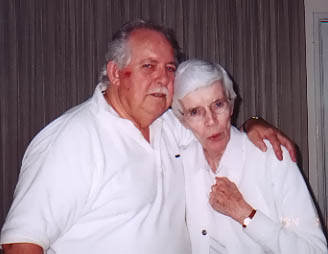 Mom's sister-in-law, Sarah Burke (aunt Sissy), also came for a last visit. Here she is hugging aunt MJ.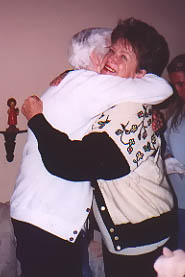 A Rosary service was held on Wednesday evening, March 14, 2001, at Dimond & Sons Mettler Chapel in Garden Grove. A bunch of the family got together choosing pictures and momentos for mom's memorial services. The pictures (other than this page) on the website were all photos taken from the boards of memories we created. The service started with the Rosary, followed by music for mom picked out by our family. Many people, including Julie (daughter), Jim (son-in-law), Cindy (niece), best friend Lois and Cathy's friend Stephanie spoke about mom. It was wonderful to remember her spirit.
Mom, looking beautiful, healthy and full of life.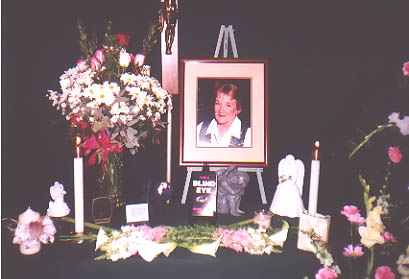 photos of Mom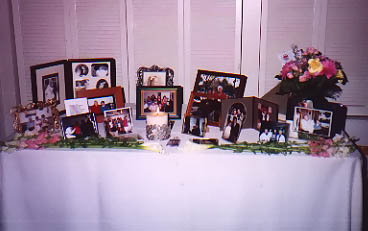 Mom received many gorgeous bouquets of flowers at the chapel and at home.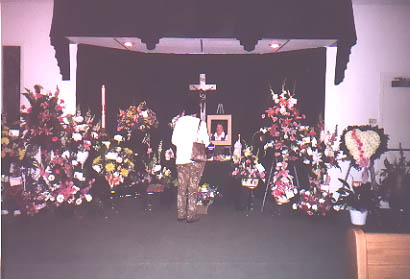 Inside the Chapel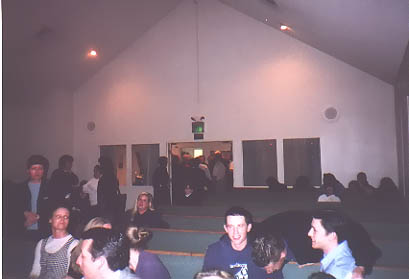 Mom's Funeral was held on Thursday morning, March 15th at 11:00 am at St. Columban Catholic Church in Garden Grove. Lisa Farish, Bill Harris and Bob Curran read the readings for the service. After that, Jenny and Cathy as well as Melissa spoke about their memories with mom. Mary read the poem "When Tomorrow Starts Without Me" at the end, which put everyone in tears. It was a beautiful service, followed by a reception at Dad's house.
The boards with all of the family photos in the back of St. Columban Church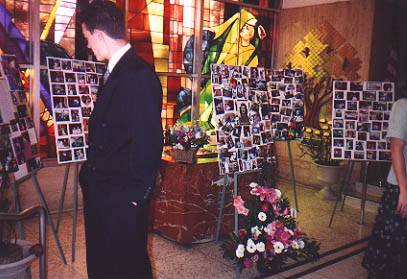 more pictures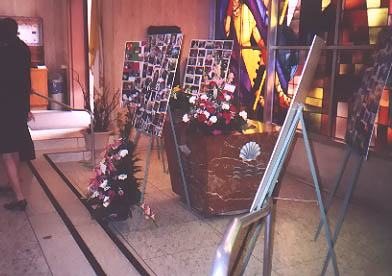 The front of the church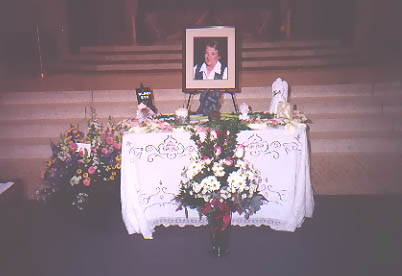 Back at Dad's house after the funeral...

The pictures and photos were set up in the backyard at the house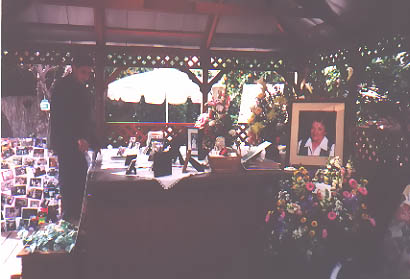 They looked great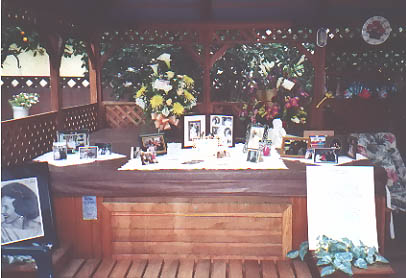 Kristi and Lois Farish, "Cheers, Donna!"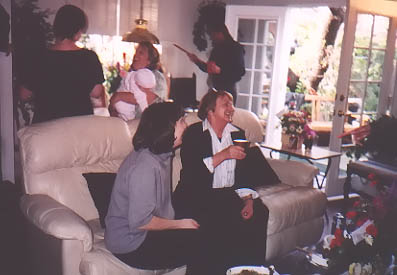 Bob & Jeanette Curran (Jeannette and Bob married in 2000)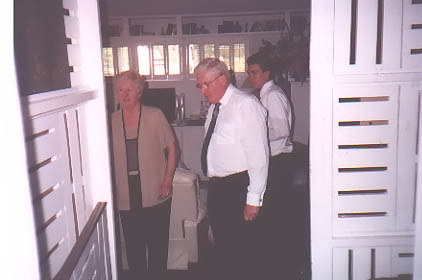 Monika, David & Allie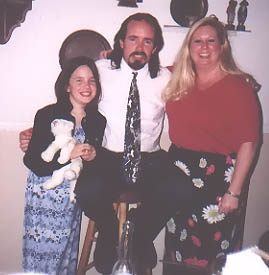 Pat with his three boys, Shawn, Daniel and Brian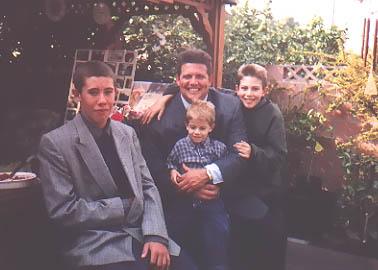 Debbie, April, cousin Gail, Karen, Jill and Tom
Tony and Joan (cuddled up in the blanket she made mom years ago)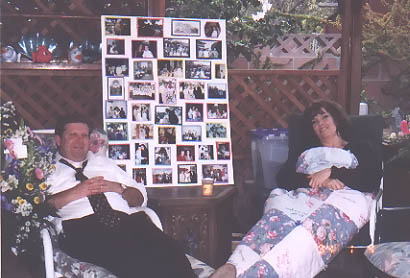 Don and aunt Matize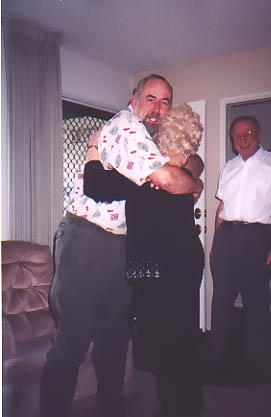 Jake getting smooches from his Grandpa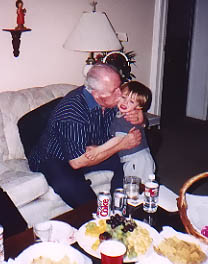 Ryan and April hanging out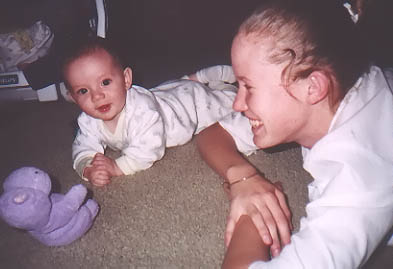 Brandon (and lots of flowers)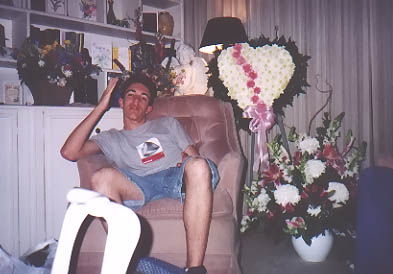 Dad's friend Tom from his work came to show Dad support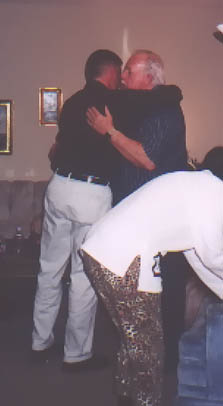 Our family had a private burial service on Friday, March 16, 2001 at Good Shepherd Cemetery in Huntington Beach. Mom had been cremated and her ashes were to be buried and her headstone placed. Decan Bob Kelleher was there to lead us in prayer as he had been at the Rosary and Funeral Service.
Mom's headstone before it was placed into the ground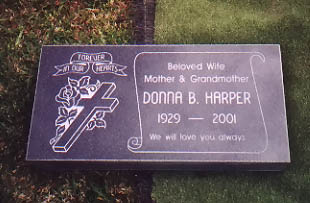 Here is the family at mom's gravesite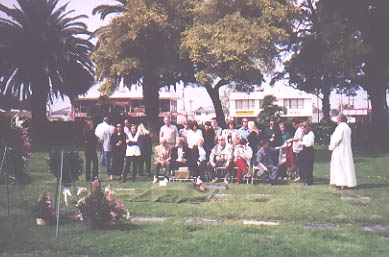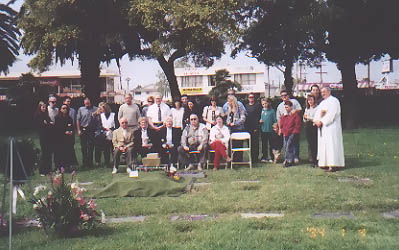 Mary brought each sibling a pink rose to bury in the ground with mom. Dad had a red rose he laid on top of her ashes before they sealed them.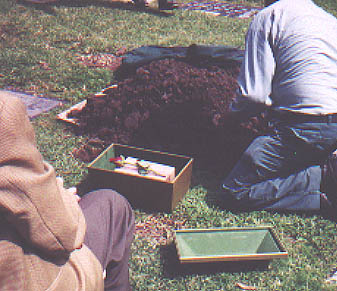 One by one, everyone put their pink rose into the grave... Here is Mary and Brian - with flowers he picked himself for his gramma.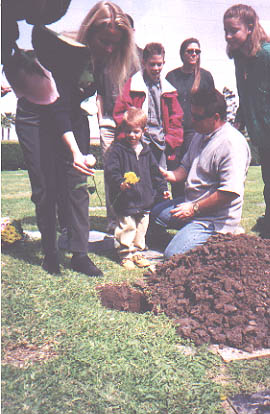 After all but one of the flowers were placed, a few of us each shoveled a little dirt into mom's grave... Pat started it out...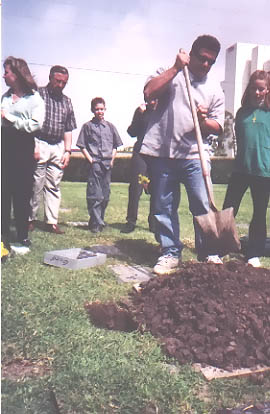 and then Cathy...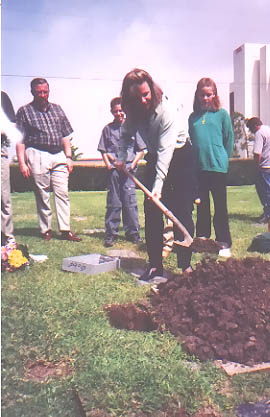 and Jane...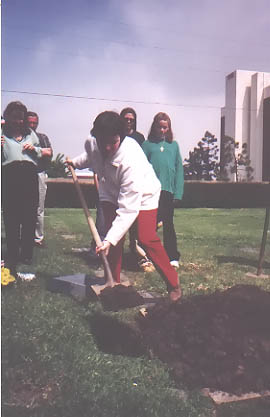 After the stone was placed, the last pink rose was put across the headstone.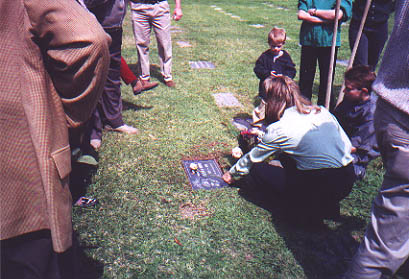 Dad...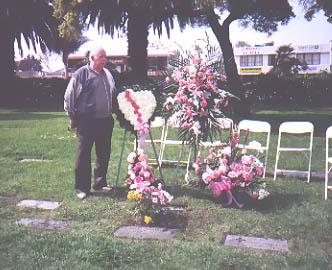 "Beloved Wife, Mother & Grandmother, We will love you always, forever in our hearts."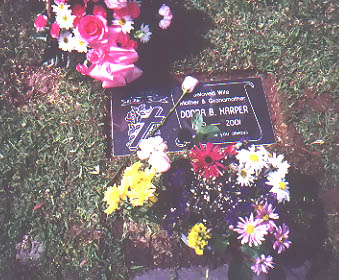 * * * * *