After a sleepless night with our tiny infant at CHOC, we tried to act "normal" for Jake who was excited to see his new brother... Jim pushing Cathy and Jake down to the St. Joseph Hospital basement, through the underground tunnel to Children's Hospital of Orange County (CHOC) to see Ryan.

August 24th...
Jim and Jake at the entrance to the NICU (Newborn Intensive Care Unit), a place that would become like home to us over the next several weeks.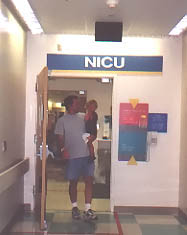 Everyone entering the NICU must remove all jewelry and watches and scrub up for 3 minutes before entering. Children (if allowed in) must wear masks... Daddy helping Jake.

Getting the mask on Jake was an ordeal in itself :-)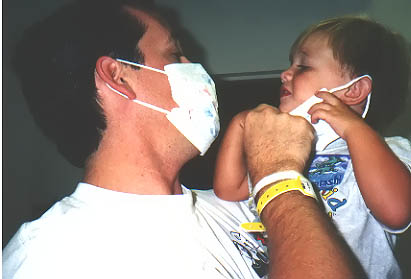 24 hours later, the life of our precious bundle was in God's hands...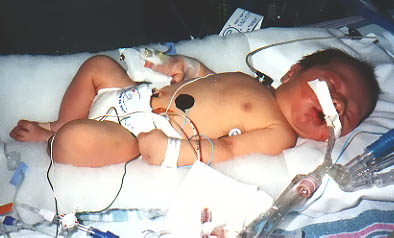 Jake was a little scared at the site of Ryan with so many iv's, but he tried to act like it didn't bother him.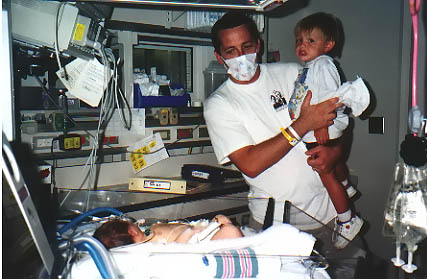 The end of a long day...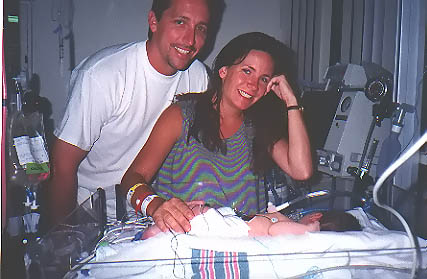 August 26th...
Jake sees Ryan again. This time he has been extubated (first of 4 times) so he is no longer on the ventilator.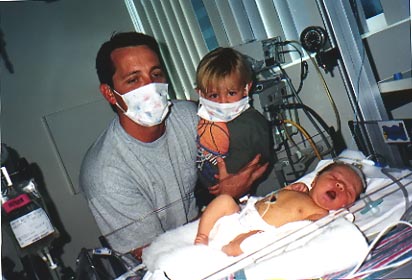 Very FIRST family photo with all four of us... Without the vent we are able to hold him finally!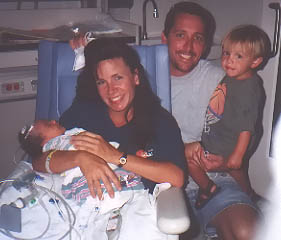 Jill and Ron are 2 of many visitors that have arrived to see our little Ryan.

August 28th & 29th...
In a meeting with Dr. Rebolledo, Cardiologist, Dr. Gates, Surgeon and Patty Sheehan, Cardiac Clinical Nurse Specialist (and family friend) August 28th, we learned that Ryan's heart defect was worse than first thought. We were told in that meeting that Ryan's chances of surviving the surgery were now 50/50. (I still tease Patty about walking into the meeting with a box of kleenex for me, that was a clue that there were complications.) After a long discussion regarding the surgery, we decided to go ahead with it and it was scheduled for August 30th. We knew that every moment we spent with Ryan from that moment on was going to be special because it could be our last. Unfortunately, Ryan was Re-Intubated that same day because his oxygen saturation level had kept dropping too low.
Ryan and Mommy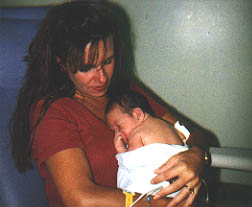 Ryan with his Daddy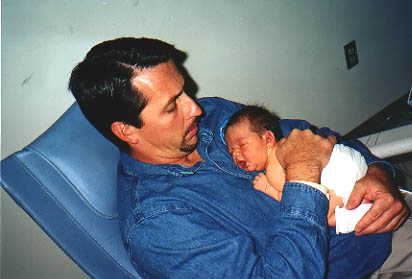 Ryan with his Mommy and Daddy.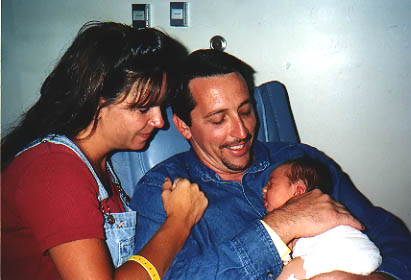 Ryan was baptized by a Catholic Priest. We knew that his chances for surviving were only 50%, so we wanted the chance to have him baptized.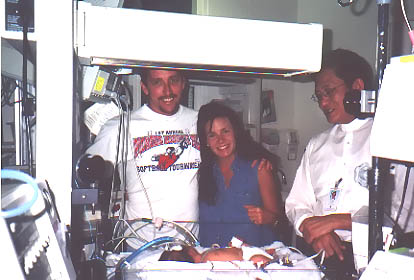 Our favorite NICU nurse, Karen, helped us deal with the stress of the impending surgery the following day... Ryan loved Karen too!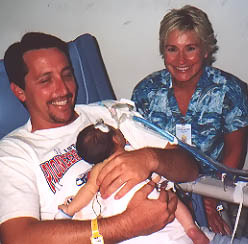 August 30th...
Ryan was scheduled for the ARTERIAL SWITCH OPERATION at 8:30 am on August 30th. The 7 1/2 hour surgery was performed by Dr. Richard Gates, son of David(?) Gates from the group "Bread". The 7 1/2 hour wait was heart wrenching and we thank everyone for their prayers and support. Many family and friends came to the hospital to lend support. I was thrilled when I got a message from one of my BabyCenter.com friends saying that they were all praying for Ryan. Patty Sheehan came into the waiting room several times to keep us updated on the surgery. Finally, after the third try, Ryan was taken off the heart bypass machine and the surgery was over. Dr. Gates and Patty came in to tell us the good news. God had granted us a miracle... I thanked him over and over again. Ryan's chest remained open for 2 days following surgery for the swelling to go down. During that time Ryan stayed in the Recovery Room where we could only visit him 10 minutes every hour.
How is an Arterial Switch Operation (ASO) done? Surgery is carried out through an opening in the middle of the chest. The heart will have to be stopped temporarily during the operation. So the surgeon will first hook up the patient to the heart-lung machine. The aorta and pulmonary artery are disconnected from their abnormal attachments. Their positions are then "SWITCHED". The aorta is stitched back to the left ventricle and the pulmonary artery to the right ventricle. A VSD is closed, if present. The coronary arteries are also freed, and connected back to the aorta using very delicate hair-thin sutures. When you consider that the size of these coronary arteries in a new-born is hardly a millimeter, you can imagine the technical skill and expertise that the surgeon must possess to carry out this connection without mishap.
Dr. Gates and Patty Sheehan giving us the GOOD NEWS that Ryan survived the surgery. They told us that he wasn't out of the woods yet and we should continue to pray until his chest was closed in a few days. Being "cautiously optimistic" is a phrase that was used over and over by all of Ryan's doctors.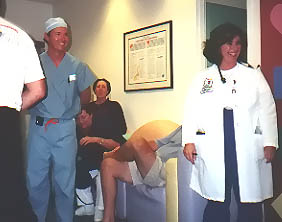 Here is Ryan, our precious little miracle, in recovery hooked up to sooo many machines and IVs. Looking at this picture now horrifies me, but at the time, I didn't notice anything but my little angel lying there - still alive!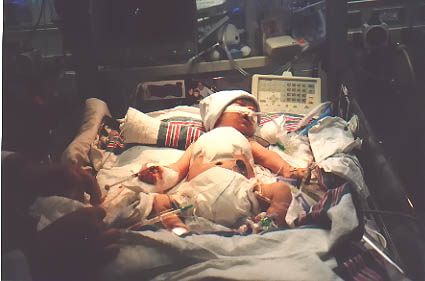 September 3rd - PICU...
Ryan was moved to the PICU (Pediatric Intensive Care Unit-just across the hall from the NICU) on September 3rd after his chest was finally closed. Ryan had many visitors over in PICU...
Grandpa and Grandma Harper - their first of many visits with Ryan.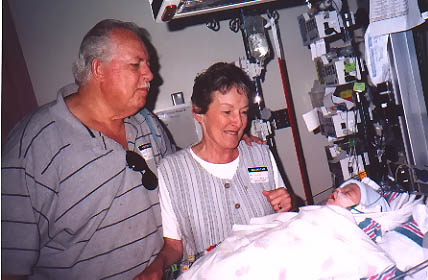 Grandma and Grandpa Smith visited often.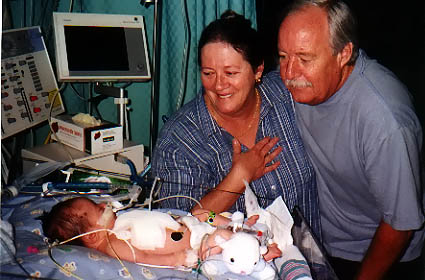 Ryan... so many iv's and lines keeping him alive...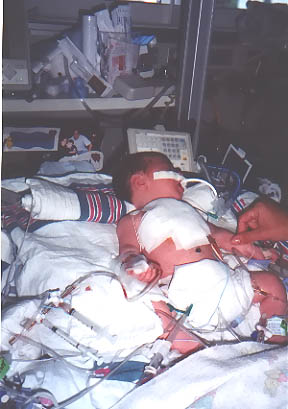 Notice the 2 IV poles behind aunt Joan... Ryan had 11 IV's going at that point.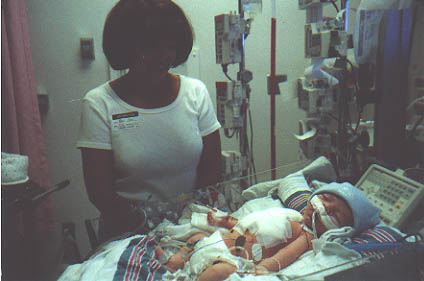 September 17th...
After 2 unsuccessful tries since Ryan's surgery, he finally was able to be extubated (taken off of the ventilator) for good! He wasn't actually "taken off" this time though... While he was being suctioned for excess fluids through his ventilator in his throat by his nurse Sharon, the vent just "slimed" out on its own. It wasn't scheduled to be taken out for days but he was fine without it so it stayed out for good this time. We were overjoyed to see Ryan's beautiful face without the vent! He did, however, still have an NG tube in his nose for eating. We were going to start trying to bottle feed Ryan the breast milk I had been religiously pumping later that evening.
Ryan, very proud of himself for successfully getting his vent out!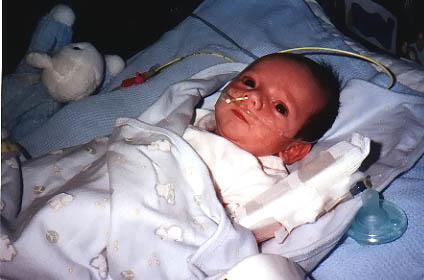 One of Ryan's favorite PICU nurses, Sharon, tries giving Ryan glucose water. His very first time trying to suck from a nipple... he wasn't very interested. :-) (Ryan's other 2 favorite nurses were Kathy and Bev... unfortunately we don't have photos of them)

Ryan in the PICU on September 19th, looking "oh so cute" in clothes for the first week!

September 22nd...
Back in the NICU
Ryan and his Mommy... Ryan was transferred back to the NICU on September 22nd. There was talk about him being moved to the pediatric floor and out of ICU, but I begged Dr. Gates to let him stay in ICU until he was discharged. In peds he would have had less supervision and I wanted him to still have his own nurse. Since the PICU was filing up, Ryan was kept on the ICU floor and just moved to the NICU. It was actually better for him there anyhow, since we were working on teaching him to feed with a bottle and the NICU nurses are more trained to help babies with feeding issues. Being on the ventilator so long, Ryan was not able to suck, swallow and breath as a normal reflex during feedings. He could do all three, just not together. We began working with Karin Mitchell, Speech Language Pathologist, to learn how to deal with his feeding issues. From the day we started working with Karin, Ryan really started showing signs of improvement.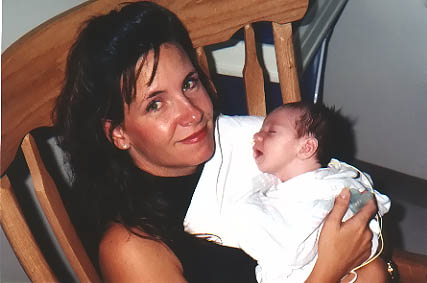 Feeding Ryan through his NG tube... Karin worked with Jim and I daily, teaching us how to feed Ryan. It was tough to learn how to hold his head just right and keep him calm so that he could feel in control of his feedings and WANT to feed. His problem seemed to stem from the vent being in his throat so long. When he felt anything in his throat, his reflex was to put the tongue to the back of his throat in protection. We had to slowly teach him to suck, swallow and breath in order to eat correctly. He was very slow in learning this and took the majority of his feeds through his NG tube in his nose.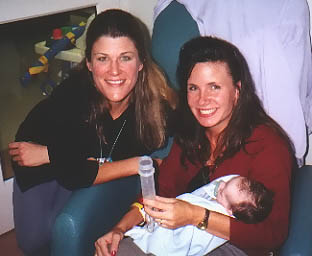 September / October...September 23rd
, Jake and Ryan with their Daddy.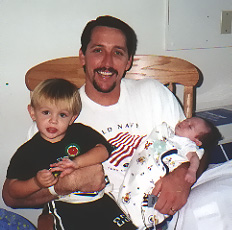 October 8th, Jake and Ryan with their Mommy.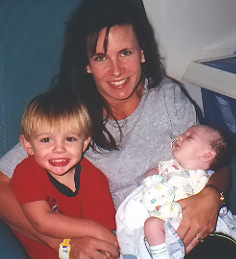 Grandpa and Grandma Harper, holding Ryan for the first time. (A memory I will always treasure...)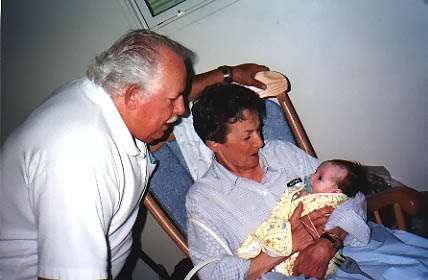 Aunt Mary...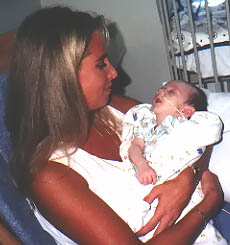 Terry and Jim Ochoa... Terry is our children's daycare provider as well as a long time family friend.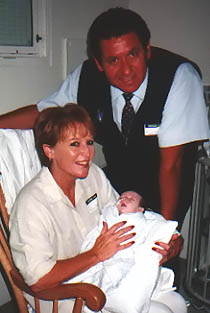 October 9th...
Ryan's PEG Tube was surgically placed into his stomach by Dr. Shaheen Idries, Gastroenterologist. Having the tube was the only way we could take Ryan home. Although he relied on it for some of his feedings, we were hopeful that he won't need to keep the PEG for long.

October 11th
- Finally GOING HOME!...
Jim with Dr. Mike Rebolledo, Ryan's Cardiologist... checking out Ryan's heart before he could be discharged.

Patty Sheehan, Cardiac Clinical Nurse Specialist and long time family friend was truly there for our family through this horrible time. She gave us encouragement as well as her friendship when we needed her most. She was invaluable to us over the 7 weeks Ryan was in the hospital... always there for Ryan, even on her days off, with a smile, and a box of kleenex-lol!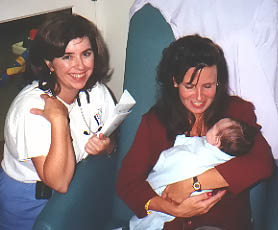 Resident Dr. Melissa Rosin and Dr. Cleary checking Ryan's circumcision that he had gotten earlier that day before he could go home. Melissa was also an angel in disguise. She talked to us like we were friends and listened to our concerns about Ryan. She even held Ryan if he was crying and his nurse was busy.
(Melissa Rosin has since become our pediatrician.)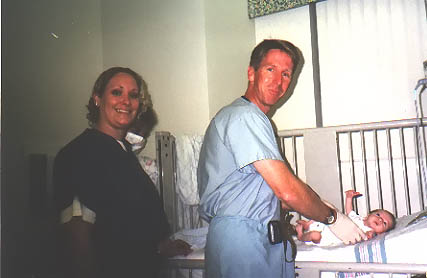 Ryan's favorite Respiratory Therapist, Debbie!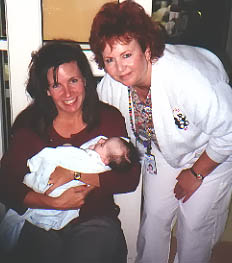 October 11th GOING HOME - FINALLY...
Ready to go - smiling away in his carseat... what an angel!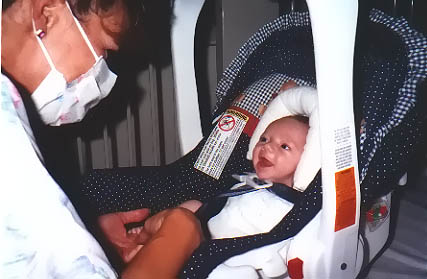 Ryan is finally HOME...
Ryan in his bassinet at home, ready for bed... it's been a long 7 1/2 weeks...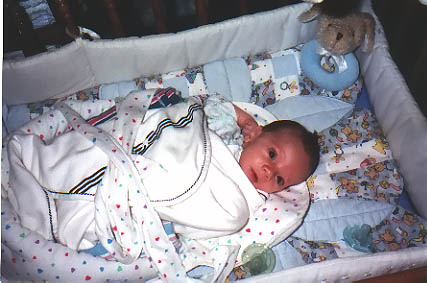 October 13th, Just hanging out on the floor, relaxing with his Daddy.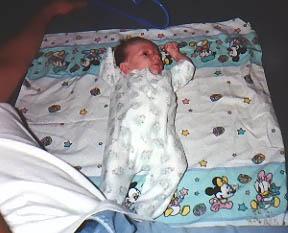 October 13th, Big Brother Jake and Ryan watching tv together.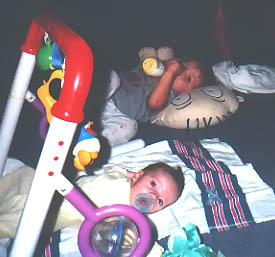 October 14th, Ryan hanging out in his bouncy chair with his favorite cousin Brandon.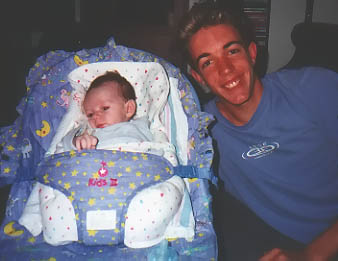 October 15th, Here we are at the CHOC WALK helping to raise money for the hospital that saved our Ryan's life.

Jake kissing his little brother.

October 26th, Jake, "Mr. Pacifier Police" himself making sure Ryan still had his pacifier in keeping him quiet.

October 26th... Here's Ryan with his PEG tube in.

November 11th, at Grandma Harper's birthday celebration - Jake refused to take a picture with us...

How precious are those two?!!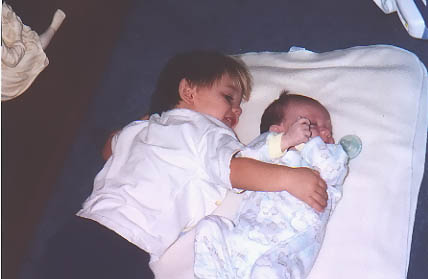 Ryan went home on October 11th, 2000 with a Peg Tube in his stomach because he still wasn't eating enough from the bottle. Along with the PEG he was also taking several medications which included Methadone (to be slowly weaned off of), Reglan, Zantac, Iron, Lasix, Aldactone, Antibiotics and Tylenol several times a day. We were faced with a new challenge, learning to give medications through the PEG tube...
Once he got home, he refused to eat or be fed through the Peg-tube for the first week. It was a scary time, watching his progress regress... we talked to several doctors and, of course, Karin Mitchell regarding his feeding issues. Not only was he not eating, but he was crying constantly. We were told he had colic on top of everything else... but we couldn't help but think, "at least it's a NORMAL baby problem for a change!" We tried switching from breast milk to Similac formula to see if it made a difference on October 17th. Ryan's "colic" crying stopped with the formula switch. OVERNIGHT he started feeding again, but this time better than ever. A week later he was taking almost every feed from the bottle and not just the 55 required.


While driving home from CHOC the night we found out Ryan had a 50% chance to live, this song came on the radio... I was crying, and the song made me stop and listen... the words were perfect, like my own personal prayer to God...
"He's My Son" by: Mark Schultz

"I'm down on my knees again tonight.
I'm hoping this prayer will turn out right.
See there is a boy that needs your help.
I've done all that I can do myself.
His mother is tired, I'm sure you can understand.
Each night as he sleeps, she goes in to hold his hand.
And she tries not to cry, though the tears fill her eyes.

Can you hear me?
Am I getting through tonight?
Can you see him?
Can you make him feel all right?
If you can hear me, let me take his place somehow.
See he's not just anyone, he's my son.

Sometimes late at night I watch him sleep.
I dream of the boy he'd like to be.
I try to be strong and see him through.
But God who he needs right now is YOU.
Let him grow old, live life without this fear.
What would I be, living without him here?
He's so tired, and he's scared.
Let him know that you're there.

Can you hear me?
Can you see him?
Please don't leave him.
He's my son."