April... Easter
Jake waking up Easter Morning and checking out his basket...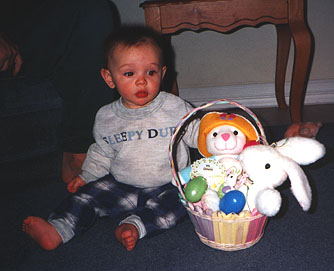 We spent Easter at the Harper's with lots of family, fun egg hunts and great food!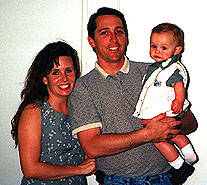 "Here I am in my Easter clothes - trying not to get dirty."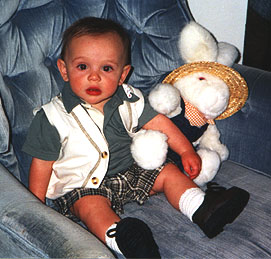 May... "When is this Strawberry Festival Parade going to start?"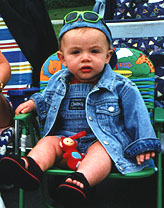 Water Baby hanging out in Julie and Brandon's pool with Mom and Dad.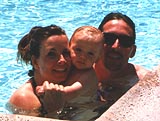 June...
Jake's first Angel Game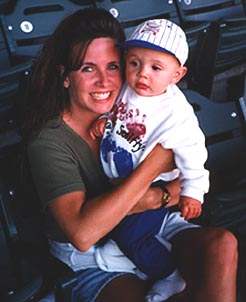 July...
"Anyone want to play?"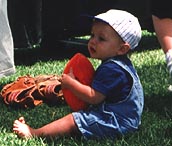 Jake and his Mommy at the Santa Ana Zoo.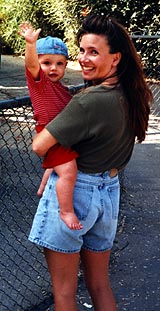 Jake and his Daddy at the Santa Ana Zoo.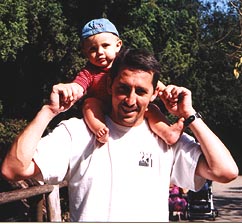 Camping at Big Bear Lake with family...
Jake just loved sleeping in the tent and waking up to his aunts, uncles and cousins.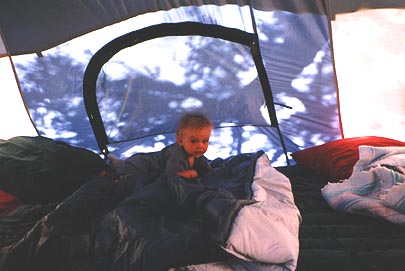 Hanging out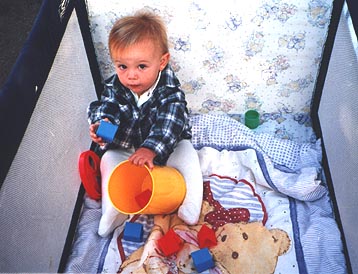 Jake and his cousins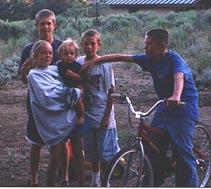 "So THIS is sand?"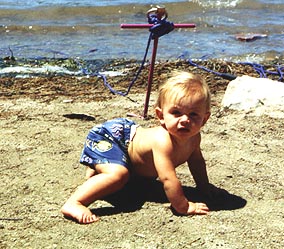 "I'll stick to the water!"

Jake and Daniel

"Sharing" toys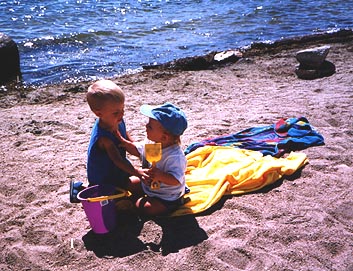 August...
Jake's 1 year pictures.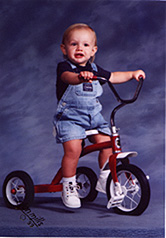 (Needs a haircut...)

A pilot at 1 year old!

Jake's 1st Birthday Party (August 1999)
Jake turned 1 year old on Saturday, August 14th 1999. We had a party for him at Irvine Park here in California. It was a wonderfully sunny day, perfect for the shady spot we had chosen under the trees near the lake. We decorated the picnic area in Whinnie the Pooh theme. It looked adorable. Jake loves Pooh. The party was loads of fun with lots of friends and family in attendance. Jake was overwhelmed by all of his guests, the presents they brought and the whole idea that they were all there to see HIM. He didn't want anything to do with his very own birthday cake at first. He just didn't think he should be forced to sit down at the table when he had so many friends there to play with. (Who can blame him?) He eventually settled down and dug into his chocolate cake after blowing out the candle on the Pooh cake that was for the party guests. He loved the mess and the cake for about 10 minutes, then decided he had enough and it was time to play again.
Irvine park is a great family park with a petting zoo, lake with boats and ducks, pony rides and kiddie train ride. The tracks for the train ride were along side our party site so the train passed us by often during the day. Every time Jake heard the train whistle, he stopped whatever he was doing and waved at the kids passing by on the train. Later in the day after most of his guests had gone home, Jim and I took Jake on the train. As we rode past the party, Jake waved at his few guests still there. On the way back, the guests all waited to wave at Jake, but he was fast alseep. What a long but wonderful day we all had.
He can WALK! Just 3 days before Jake's birthday, he received the cutest Noah's Ark chair as a birthday gift from his aunt Jill, uncle Ron and cousins Melissa and Mike. He was sitting in it when suddenly, he got up and started walking away from the chair. We were in shock! His first steps just days before his 1st birthday. Unfortunately he refused to show-off his newest accomplishment at his party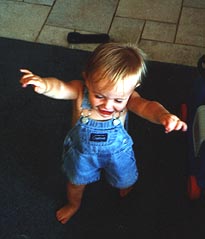 "Cake Time..."
"Here is my Winnie the Pooh cake I had to share with all of my guests."


"THIS is my very own cake I got to eat ALL by myself-YUMMY!"

"My daddy is showing me how to blow out the candle."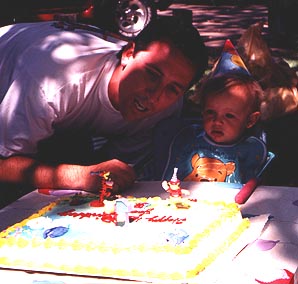 "Yeah! This is fun! I can make a big mess and no one cares!!!"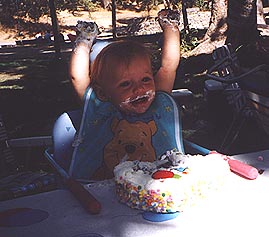 "Messy! Why is everyone watching me eat my cake? Why don't they just go eat their own and let me chow down in private!"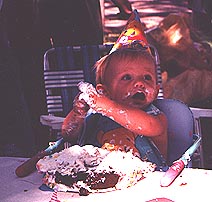 Time to open presents...
"Wow, look at all of these boxes - just for me!"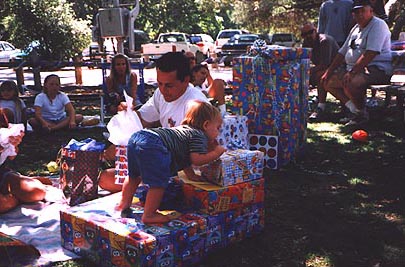 "See my cool new bike from uncle David (Smith)!"

The Train Ride...
"Here I am with my daddy and mommy on the train waving to my party guests!"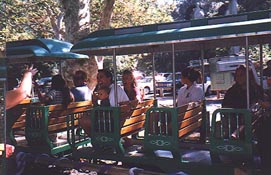 Jake was so tired he fell asleep on the way back.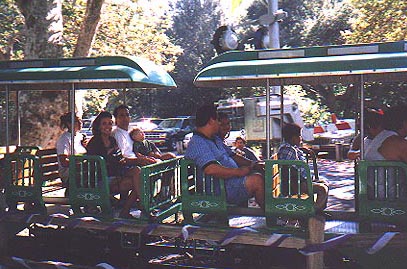 August 15th...
Playing with his new toys
Jake got many nice gifts from friends and family. Here are a few of the gifts he enjoyed playing with the following day.
"Here is my new car. My aunt Joan, uncle Tony and cousins Christopher and Anthony bought it for me. My license plate says "Jake-1". It's the best little red car around!"

"This is my Sesame Street Kitchen I got from Terry, Jim, Jessica and Shawn."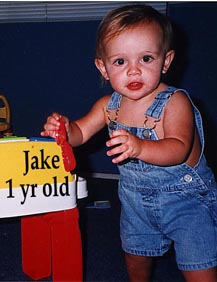 "My daddy is going to teach me how to cook."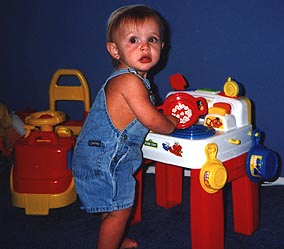 "My aunt Mary, uncle Ron and cousins Anna and Meyghan got me this neat fire truck. It even has a car phone!"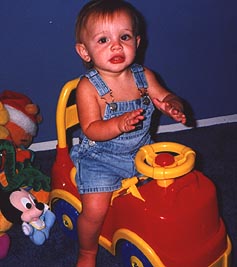 "Here's my chair, It's just my size! I love sitting in my chair reading the books I got from my aunt Jenny, uncle Don and cousins Sarah and Matt."

"Aunt Julie and my cousin Brandon got me lots of stuff including these great golf clubs. Daddy says I need to start early if I'm going to support him some day."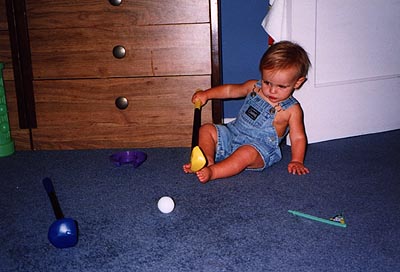 Julie and Brandon also got me this cool train. My mommy wasn't too happy about all of the "Stone Cold" wrestling stuff they gave me, including wrestling guys, blow up wrestling chair and "Stone Cold" punching bag. Daddy likes it all though!"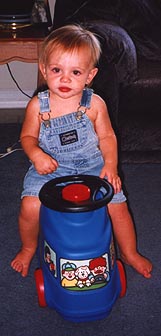 September... Back to Irvine Park.
Jake's 1st time on a pony. Here he is, very excited to be riding his very first pony. He absolutely LOVED it. He even pet the pony and waved at mommy while daddy walked him around the ring over and over.

"Here I am hanging out with daddy."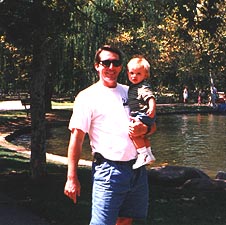 Daycare...
"I love going to daycare every day. I have great friends there I get to play with and I get to see Terry. She's like my 2nd mommy!"
"Here I am with Terry."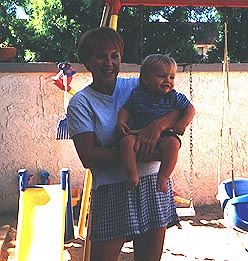 "Here I am hanging out with some of my friends. (Brandon, Dominick, Jessica and Hannah)"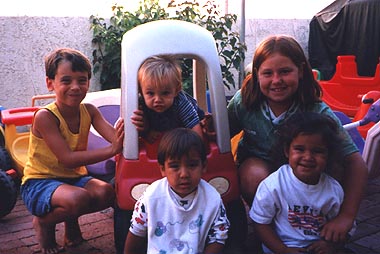 "I wasn't doing anything wrong - honest!"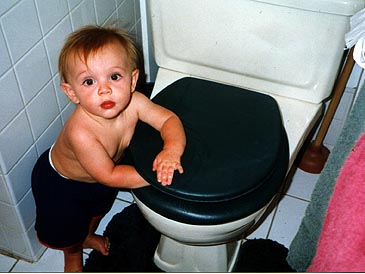 "Ok, I guess maybe I WAS playing in the potty, it's a lot of fun!"

"I LOVE bath time!"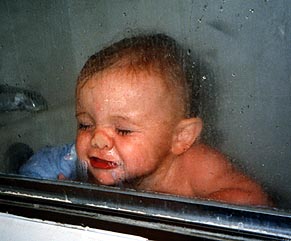 Visiting with friends...
"My mommy's friend Kate was in town from Connecticut, so we all got together. (Macey, Sue, Kate, Parker, Rebecca, mommy & me. Oh, mommy's friend Kellie and her daughters, Kaitlyn and Lucy, were there too but not in the picture.)"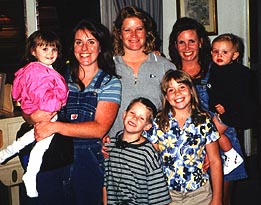 "This is me and my mommy with Macey and her mommy Sue."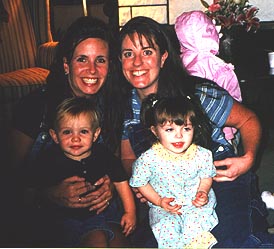 "Here I am with Kate. Oh and this picture was taken a couple days BEFORE my haircut. Wait till ya see how cute I look AFTER it was cut!"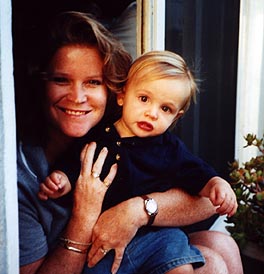 Jake's 1st haircut...
"The barber is cutting my hair while I am being very good. (At least for most of the cutting part.)"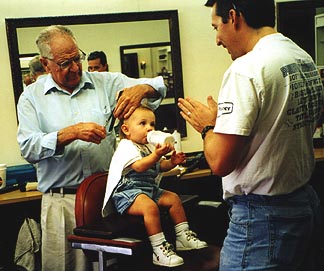 "Yeah, what a nice job that barber did on my hair! Now I am just kicking back watching a little Barney in my beanbag chair."

October...
"This is my great-gramma. I love spending time with her."

Halloween 1999... Jake was Tigger.
"My mommy is teaching me how to carve the pumpkin."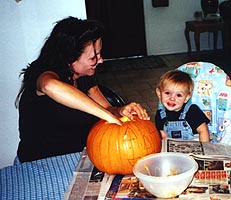 "Here I am dressed up as Tigger. I'm not too sure about this dressing up stuff."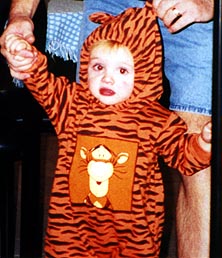 "My cousin Jonah and I went "trick or treating" together. He was an elephant."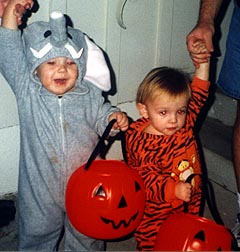 November...
"I love to water the plants. I use to do it with my mommy, but now I do it all by myself!"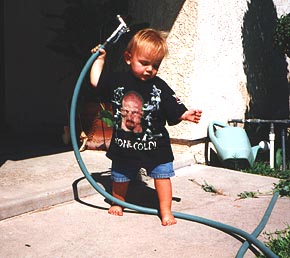 "I love jumping on mommy and daddy's bed!"

"I've got the ball, who wants to play?"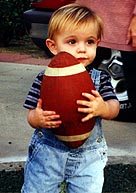 "My cousin Brandon is helping me read my book. He's the best!"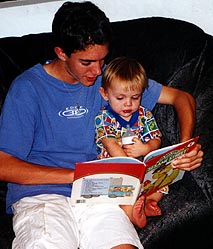 "Here I am at "Kidnastics". I got to go there for Macey's birthday party. What a blast!"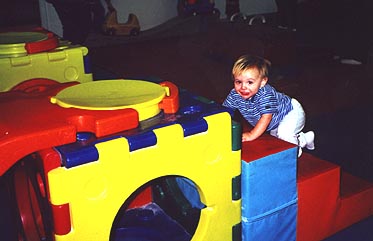 "I had sooo much fun at the party I didn't want to come home. Mom said I slept really well that night!"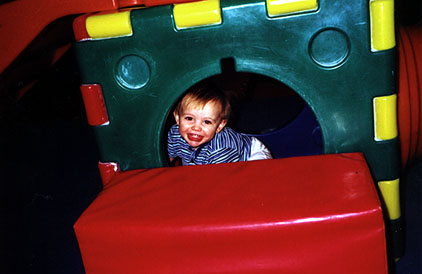 Christmas
Christmas this year was wonderful! Jake was old enough to really enjoy opening his gifts to find surprises inside the nicely wrapped packages. His favorite gifts were his "Jungle Gym" for the backyard and his Barney, BJ & Baby Bop stuffed animals. Of course, he was overwhelmed by everyone's generousity. One extremely special gift he received was hand made by his aunt "JuJi" (Julie). It is a beautiful photo album that holds pictures from A - Z of everything in Jake's everyday life from family members to his toys. There are pictures under the correct letter for all of the things he knows and loves. He enjoys going through it every night and pointing to each item, telling us what or who it is. What a truly special gift we will treasure always.
Our Family Christmas Card Photo
We sent this picture out as our Christmas cards. It was taken in early December. Jake was a little trouper, smiling for every picture!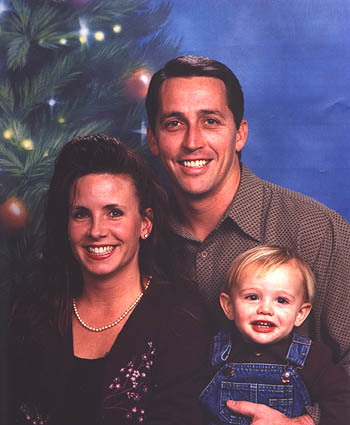 Jake meets SANTA...
Jake was a little hesitant to let Santa hold him until Santa spoke. Jake recognized his voice as the voice of Jim Ochoa, his beloved daycare provider's husband. Santa was ok after that, although he still wasn't too sure why he had that long beard!
Santa and Mrs. Claus (Jim and Terry) provide hot chocolate and popcorn as they pose with the neighborhood kids in front of their beautifully decorated house. What a great tradition!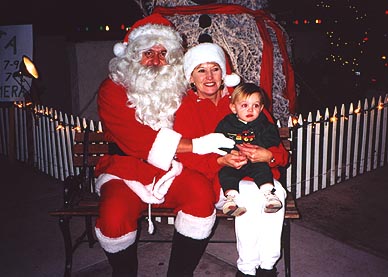 Santa with Jake and his mommy and daddy.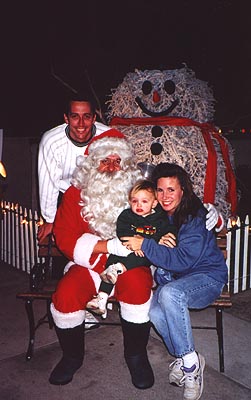 "This is the biggest snowman I have ever seen! I love to run around it."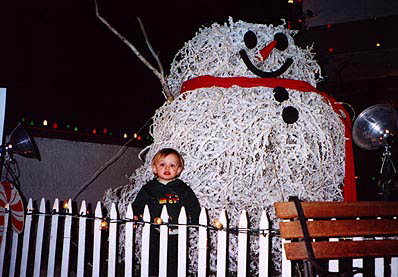 Christmas Eve...

We spent Christmas eve at the Smith's house in Wrightwood. It was great fun watching Jake and Jonah (our 2 year old nephew) open gifts. As always, it was a terrific Christmas Eve.

Christmas Morning...

"This is my buddy Barney. Look, he has the same pjs on that I do!"
"This is Pooh. I got him from Gramma and Grampa Harper. I LOVE him!"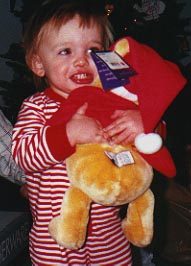 "Merry Christmas Everyone! And thanks for all the neat gifts!"

Late December - hanging out...

"I love to hang on the swing set!"